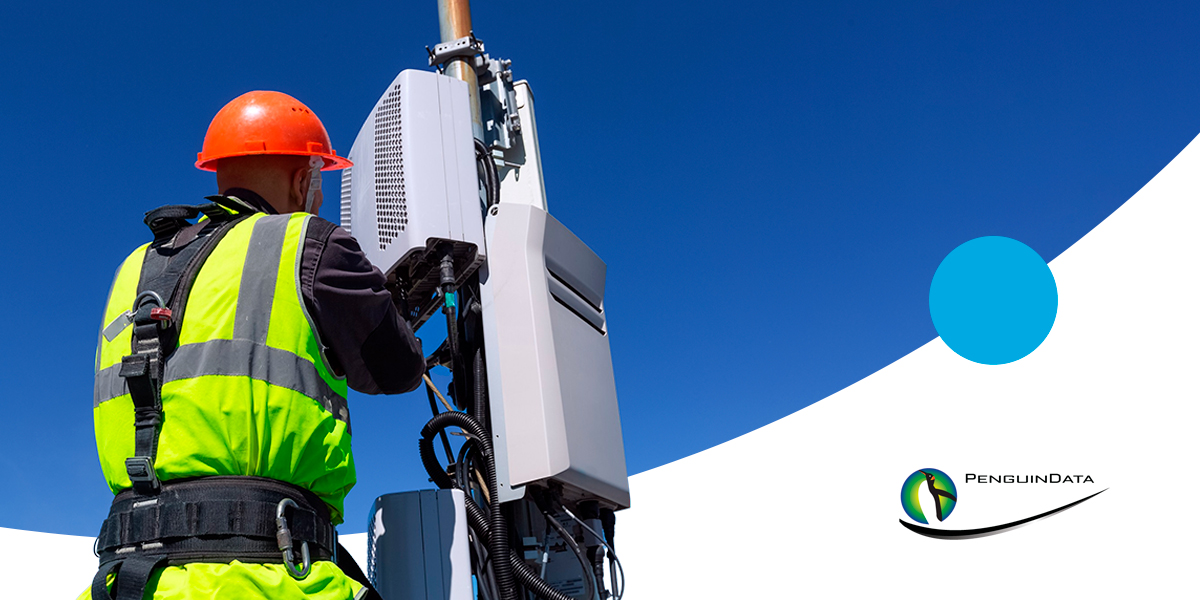 How to Be a Better Telecommunications Project Manager
From a diverse array of stakeholders to each of the contractors involved in installing the equipment, telecommunications projects have many different moving parts. That's why project managers play such a critical role. Without someone to bring all these different pieces together, it's nearly impossible to keep projects moving according to the original scope and budget.
Telecommunications project managers need a specific set of abilities to accomplish this task. In this post, we'll review the responsibilities of a telecommunications manager and what you need to succeed in the industry. We'll also discuss ways to improve your project management skills, like implementing a quality workforce management system.
Telecom Project Manager Responsibilities and Challenges
If you've been in the industry for a while, you'll know some essential telecom manager responsibilities include:
Coordinating the efforts of a diverse team of professionals to ensure everyone is on the same page
Tracking and documenting project progress
Consulting with technology vendors to learn about new products and upgrades
Meeting with clients to understand their organizations' telecom needs
Occasional hands-on installation and maintenance work
Working closely with upper management to ensure each project's scope and trajectory is on track
Following a methodology such as Agile or Critical Path Method
Working with a client to develop telecom policies that meet their requirements
Of course, telecommunications management jobs are constantly evolving. You can expect to encounter new challenges in your day-to-day responsibilities, which will require creative solutions to overcome. Some of these include the following.
Competition: Fierce competition within the industry means telecom project managers frequently have to change course in project scope, strategy and overall goals.
Innovation: Technology is constantly evolving, so project managers need to stay abreast of new advancements like 5G, the Internet of Things and integrated services digital network systems.
Hiring: Given the current labor shortages across almost all industries, it can be demanding for telecommunications managers without an in-house team to find enough people to complete each project on time.
Using smart tools and building on your repertoire of skills will help you find ideal solutions for each obstacle you encounter.
5 Skills You Need to Be a Good Telecom Project Manager
Telecommunications project managers must deliver high-quality work and satisfy their clients. Here are the crucial abilities you should hone for the job.
1. Management
The ability to juggle people, resources and time is critical for telecommunications managers.
Here are some tips for improving your management skills.
Adjust your mindset: A "big-picture" mindset is essential for ensuring your project gets done on time and as close to the original scope as possible.
Establish trust: Team members must trust each other to work well together. Develop a rapport with your team and maintain an open-door policy.
Lead by example: Your team will follow your lead in approaching each project, so make sure you demonstrate positive leadership. Be proactive and maintain connections with everyone on your team.
Leverage technology: Using a digital workforce management system simplifies project management by bringing diverse elements of your project together.
2. Customer Service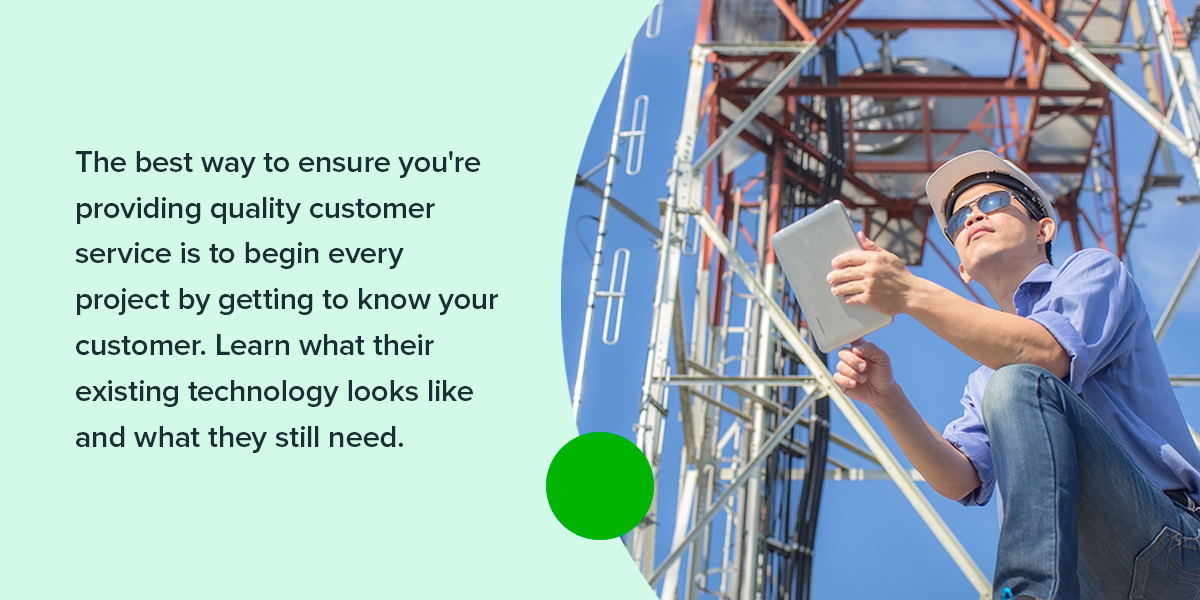 As the person overseeing the project, you're the primary point of contact for your customers. And when only one-third of customers feel their telecom services provider understands their needs, providing excellent service can help you differentiate your company from the competition.
The best way to ensure you're providing quality customer service is to begin every project by getting to know your customer. Learn what their existing technology looks like and what they still need. In addition to building trust, this initial step can help you remember that your ultimate goal is to make your customers' lives easier.
3. Communication
Clear, efficient communication is critical for maintaining good relationships and coordinating your team's efforts. For example, you need to use various communication channels to keep stakeholders updated on project milestones and answer any questions they may have.
Additionally, you should regularly check in with your team to ensure they have the resources they need, get updates on project progress and clear up any confusion. These check-ins can help boost your team's productivity and strengthen their professional bonds.
4. Networking
Networking and communication are closely related tools in a project manager's arsenal. Project managers must build and maintain strong relationships to stay competitive within the telecom space.
For example, you may need to bring in outside expertise to help you find a new solution to a bottleneck in your project. Having a large network of other project managers can help you overcome these obstacles by suggesting solutions that helped them overcome similar problems.
Putting effort into building a professional network can also help you hone your communication skills — after all, practice makes perfect. The more you interact with others in your field, the more you will learn what makes effective communication.
5. Organization
Successful managers need excellent organizational skills. When you're organized, you know what's happening at every project level, which can help you quickly identify and resolve bottlenecks. Plus, staying on top of project timelines helps reduce stress for you and your team, contributing to better decision-making and communication.
Many project managers still use spreadsheets or paper forms to keep track of all their data, which can quickly get out of hand. Adopting new management tools can help make staying organized easier.
Tools to Help You Be a Better Telecom Manager
Centralized workforce management tools can help you stay organized by consolidating all your project data in one accessible location.
Whether you work with an in-house team or hire contractors for your project, a cloud-based workforce management software system like PenguinData creates a single source of truth for everyone involved in your project. The web-based SaaS capabilities enable access from anywhere, allowing you to oversee your project no matter where you're working from.
The system updates in real time, so you'll always have the latest information at your fingertips. And on-demand reporting capabilities help you identify key trends so you can make strategic adjustments as needed to ensure on-time delivery.
Try PenguinData's Workforce Management Software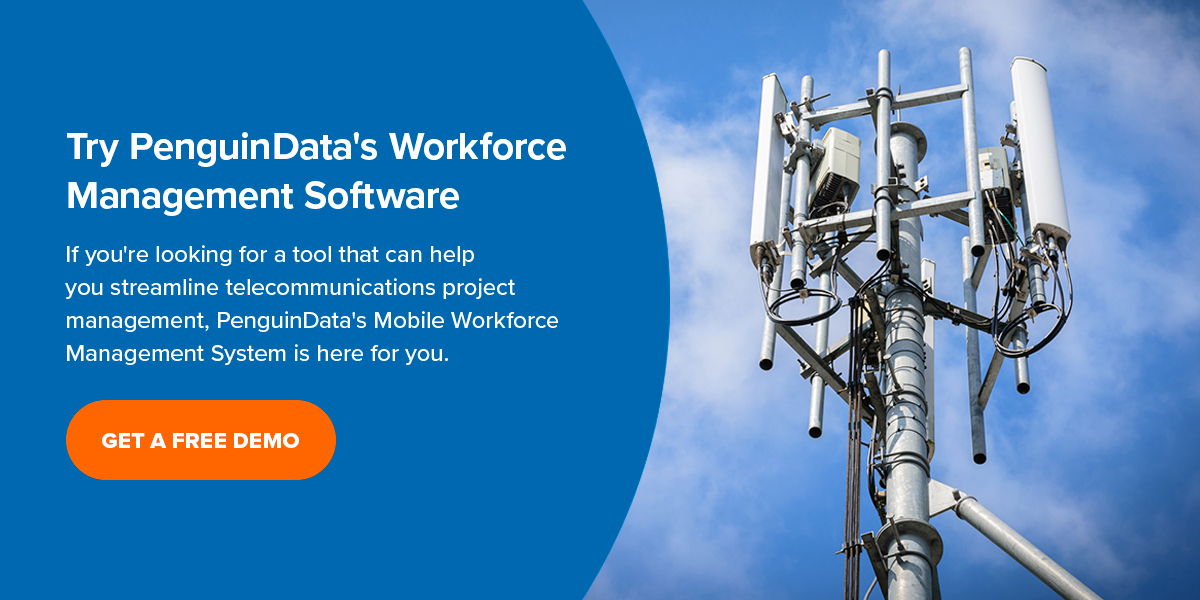 If you're looking for a tool that can help you streamline telecommunications project management, PenguinData's Mobile Workforce Management System is here for you. With real-time expense tracking, work order management and invoice reconciliation features, this module gives you full visibility and control over every element of your projects.
And because industry professionals design our software, you can rely on us to help you address your company's unique challenges. Contact us today to schedule a free demo.