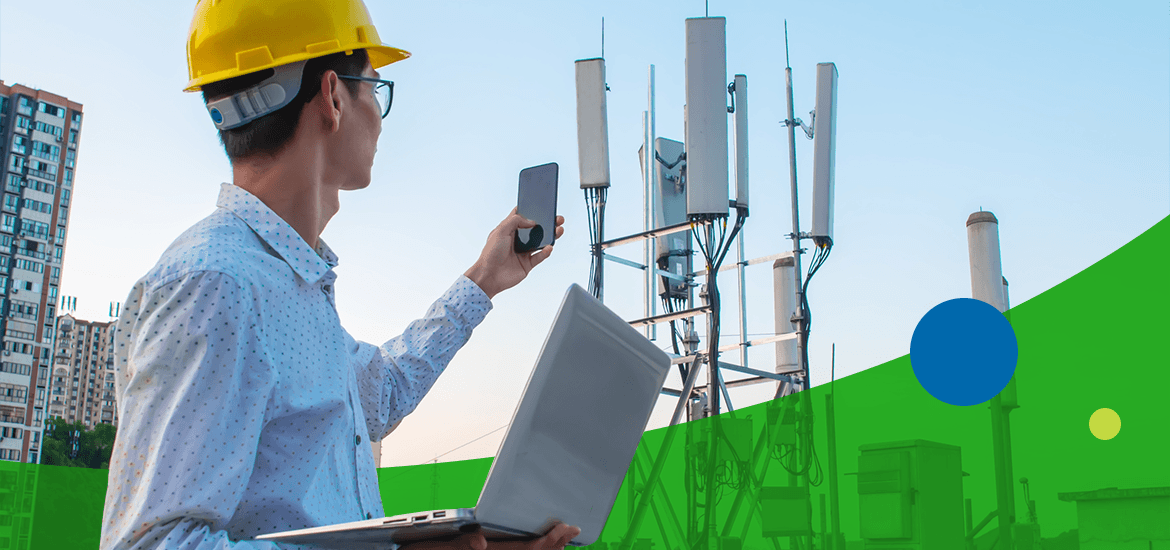 Visibility is critical in inventory management, helping businesses manage their assets, optimize their infrastructure and reduce unnecessary costs. Efficient inventory management is especially vital in telecommunications. Telecom companies provide services that other businesses and organizations rely on to stay connected to their offices and employees.
With telecom services constantly expanding, businesses need a complete picture of their assets to ensure accurate monthly billing and reduce expenses. Learning how to overcome the challenges associated with managing inventory at your telecom company is crucial for success.
What Is Inventory Management in Telecom?
Inventory management in telecommunication is the process of tracking physical and non-physical assets across a telecom company's infrastructure. Telecom companies use inventory management tools to track, organize, coordinate and utilize their assets. Keeping all inventory data in one location allows them to complete processes efficiently. Service inventory in telecom is a way to track non-physical assets such as service and lease agreements, internet and telephone services and software licenses.
Managing telecom inventory includes recording the following:
The types and quantities of physical assets in use
Where and to whom services are assigned
When assets are installed
When contracts are eligible for renewal
What customers are using each service for
What Is the Difference Between Logical and Physical Inventory in Telecom?
The two types of inventory that telecom companies must manage are logical and physical assets. Physical assets are the essential physical components of telecom infrastructure that enable all telecom services. A telecom company's physical inventory includes telephone lines, fiber optics and other equipment.
In contrast, logical inventory refers to a resource's bandwidth, functionality and connection to other assets. A telecom company's logical inventory includes the internet and telephone services they provide. They may use the same physical assets to provide customers with different logical services. For example, a household may need a single landline, while an office building needs several lines for each business inside.
The Importance of Telecom Inventory Management
Telecom inventory management is vital for effectively managing your business operations. Consider the following three benefits that make inventory management in telecommunication so important:
1. Improves Accuracy
Telecom inventory is constantly in flux. Your company continuously adds new lines and circuits, moves services and connects or disconnects corporate devices. In addition, many telecom companies have widely spread branches and units, making it easy for inventory management to occur in a silo.
Streamlining your telecom inventory management consolidates disparate data sources to create a single picture of your inventory, making inventory tracking and reporting more accurate.
2. Cuts Costs
All businesses strive to reduce unnecessary costs. Telecom companies are experiencing an increasingly complicated web of IT infrastructure, service agreements and mobile devices. A systematic approach to managing assets allows telecom companies to identify unused resources, reducing the risk of spend leakage and staying on budget.
3. Increases Efficiency
Effective telecom inventory management enables companies to offer their customers high-quality, cost-effective services. By managing their assets, telecom companies can ensure their customers' inventory is well-maintained and used efficiently.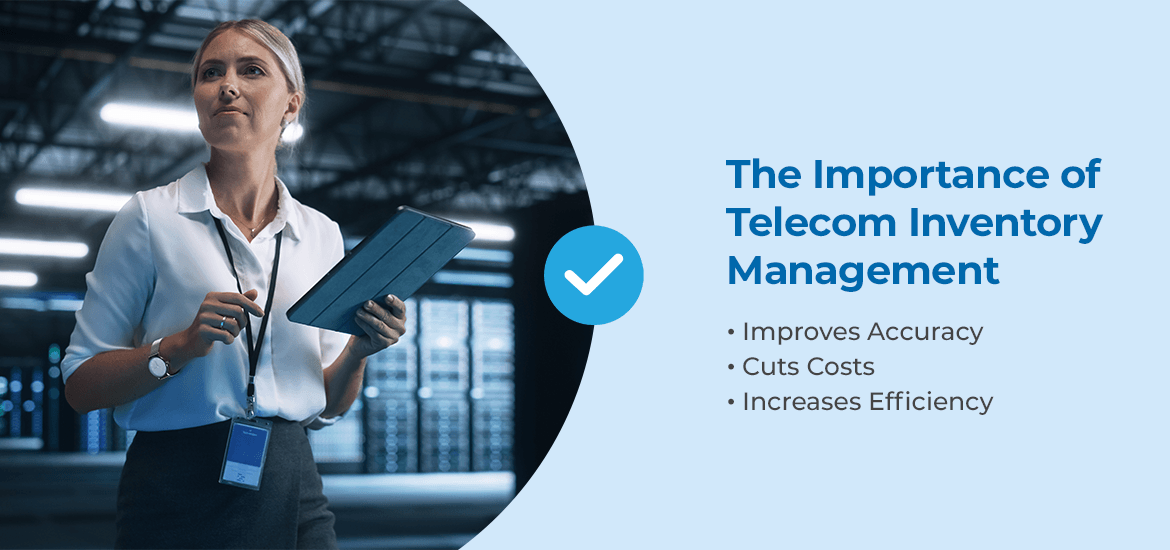 4 Challenges of Telecom Inventory Management
With telecom assets constantly changing, inventory management can be complex. Here are some of the most common challenges to inventory management your telecom company may face:
1. Employee Turnover
Employee turnover at organizations utilizing your telecom company's services can make inventory management significantly more challenging. When your customers' new employees need new mobile and desktop devices, they must quickly add them to their service agreements. Terminated employees may also pose a security risk if the company does not swiftly decommission their devices.
Efficient telecom inventory management makes it easier for your company to manage new devices and coordinate service agreement changes to meet customers' needs. Telecom inventory management software simplifies all the processes that accompany employee turnover.
2. Multiple Platforms
When you house inventory data in disconnected systems across multiple locations or departments, you cannot track and manage assets with as much clarity. Telecom companies using multiple software and data sources may find it challenging to:
Gain visibility into their physical and non-physical inventory.
Correctly handle invoices and procurement.
Streamlining data in a single platform is the best solution for managing services and physical assets. Manually updating all applications and databases is highly time-consuming. Implementing a cloud-based inventory management system lets you keep inventory up-to-date in real time.
3. Lack of Compliance
A lack of compliance with asset management procedures is another challenge of telecom inventory management. It is crucial to abide by inventory management policies when dealing with expensive telecom equipment. However, doing so with outdated or poorly enforced procedures can be challenging.
Reviewing inventory management policies can help ensure your business can effectively handle every event that impacts its telecom inventory. Clarify your policies to simplify decision-making and asset management.
4. Manual Processes
If your telecom company continues to use spreadsheets and manual processes for inventory management, you are missing out on the benefits of automation. Manual processes are time-consuming and prone to employee errors. Automation lets you track inventory in real time and gain greater visibility into your asset management.
With the right telecom inventory management system, your company can optimize asset management and free your employees to focus on more profitable tasks. Intuitive inventory management software helps you keep errors to a minimum by keeping track of your physical and logical inventory, including:
Line commissioning and decommissioning.
New mobile device additions.
Lease changes.
Network equipment.
Telecom Inventory Management Solutions
Whatever type of inventory management your telecom company uses, telecom inventory management software can simplify the process. With an efficient digital telecom inventory management system, you can:
Track assets in real time.
View and edit inventory data.
Provide users with accurate inventory data whenever they need access.
PenguinData's cloud-based inventory management and asset tracking software module provides all the tools your telecom company needs to manage its assets effectively. We designed our software with input from field service experts, creating a system that includes current information on equipment and materials regardless of their location. With a user-friendly interface, 24/7 mobile access and robust features like electronic sign-offs for materials requests, PenguinData's telecom inventory management solution is built to improve your productivity and bottom line.
Overcome Telecom Inventory Management Challenges With PenguinData
If you want to improve your telecom inventory management, PenguinData's software solutions can help. Our inventory management software lets you track assets down to the field, job and project. Track parts usage, costs and stock levels and receive alerts and reports to boost efficiency even further. Schedule a demo of our software today to see PenguinData's inventory management solution in action.